Me too !!!
Sorry for reviving this thread and even more for letting so much time pass…
So the cost is around 10€ for 50pacthes
i'll ask if we can have some less…
if everybody confirm their order we are around 25…
i can print some more for future EAF pilots but 25more is 250€… It's too much…
Confirmed for 1 patch. Via paypal payable to? What address?
Hmm, did I miss the post where we signed up for the patches? Anyway I'm up for 2 as well.
Confirmed 2 for me let us know where to pay
I think we could use paypal! I'll let you know when ready!
Yup still in, need info to send you money!
In for my order/confirmed!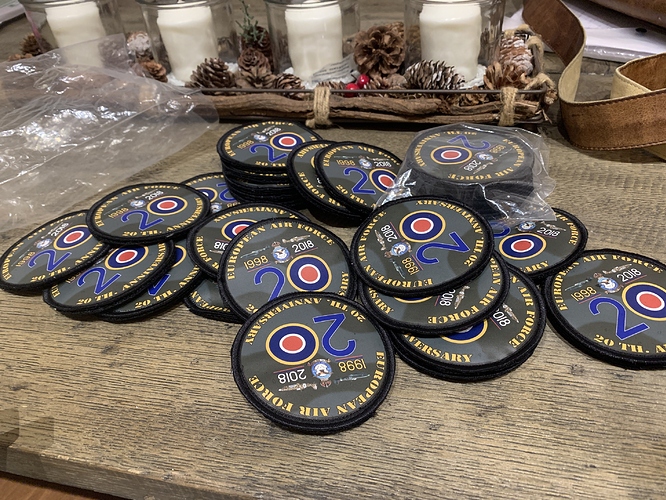 Pls write me your adress by PM!
Next week i'll start the shipment!
For payment i'll go with PayPal - it has a a little fee bit imho it's compensated by its ease of use!
(you can use a simple credit card too even if you don't have a paypal account)
I'll replay with instructions after i get your adress!
Ok i've opened a paypal link to receive the payments
(it's free but you need to register to paypal.)
Expedition fees are good! Note that it changes for 2 parches (we exceed by little the 20 grams limit)
10€ + 1,15€ = 11,15 1 patch europe
10€x2 + 2,90 = 22,90 2 patch europe
10€ + 1,10€ = 11,10€ 1 patch italy
10€x2 + 2,60= 22,60€ 2 patch italy
Zone 1
Europa
Albania, Andorra, Austria, Azzorre, Belgio, Bielorussia, Bosnia-Erzegovina, Bulgaria, Cipro, Croazia, Danimarca, Estonia, Faroe (Isole), Finlandia, Francia, Germania, Gibilterra, Gran Bretagna, Grecia, Guernsey, Irlanda, Islanda, Jersey, Kosovo, Lettonia, Liechtenstein, Lituania, Lussemburgo, Macedonia del Nord, Malta, Man Isole - Gran Bretagna UE, Moldavia, Monaco, Montenegro, Norvegia, Olanda, Polonia, Portogallo, Repubblica Ceca, Repubblica San Marino*, Romania, Russia, Serbia, Slovacchia, Slovenia, Spagna, Svezia, Svizzera, Turchia, Ucraina, Ungheria, Vaticano*
In case of problems pls let me know!
Thanks Jimmi
If we send extra money will it be used to other EAF needs, like TS?
the idea was to rise some money but this time patches production was expensive even if with superb quality
but sure if you'll send some more i'll save them for EAF.
But who is that holding it?